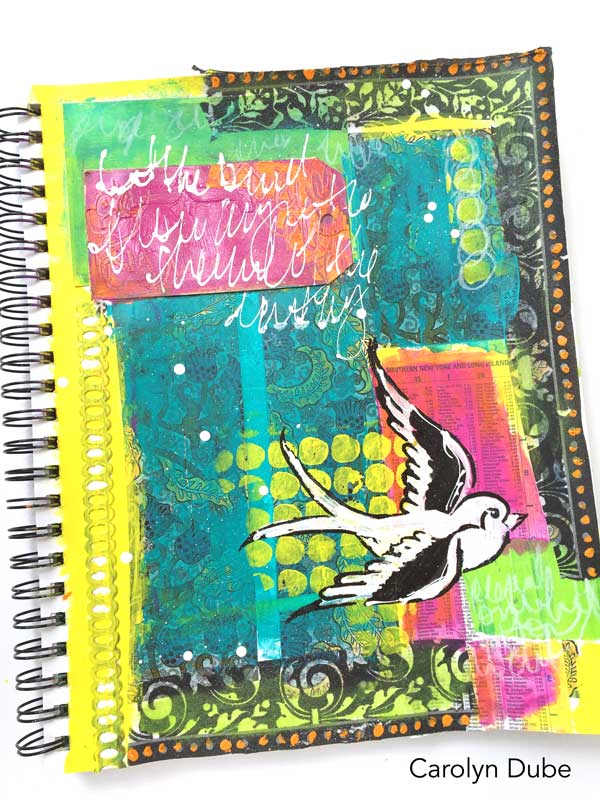 I have an assortment of junk papers to start this page.   I use paper junk so that nothing is precious for this first layer.  Color doesn't matter at all here. What matters to me is pattern, texture, and shape.  In the video, you'll see different ways to attach the papers to your page.  Different glues behave differently and I am showing you a variety of glues and when they are handy to use.
Video Password:ArtFun
Video Password:ArtFun
Need help downloading? Check out the Troubleshooting & Technology Questions page.
Video Password:ArtFun
Video Password:ArtFun
Need help downloading? Check out the Troubleshooting & Technology Questions page.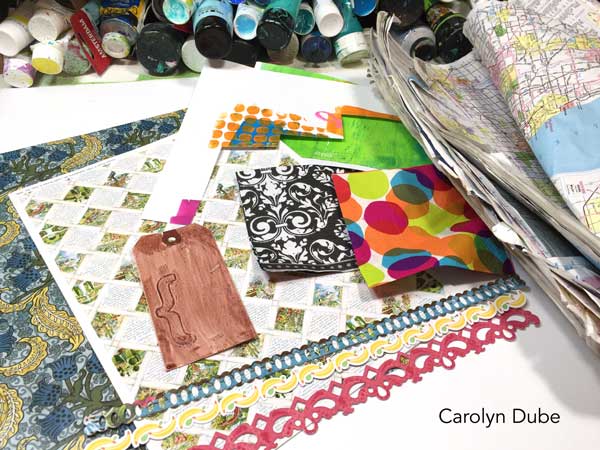 When I started art journaling I didn't have all these supplies, I had a glue stick and gel medium.  Those 2 are still my workhorses, my go to way of gluing and attaching so there is no pressure to have all the different supplies I'm sharing in the video.  My goal is that you understand when it is advantageous to use one type of adhesive compared to another.  Below is a cheat sheet/reference guide for you to look back at you get familiar with the adhesives that work best for your style.
If you right click on the image, the choose the save as, and then pick where on your computer you would like to save it.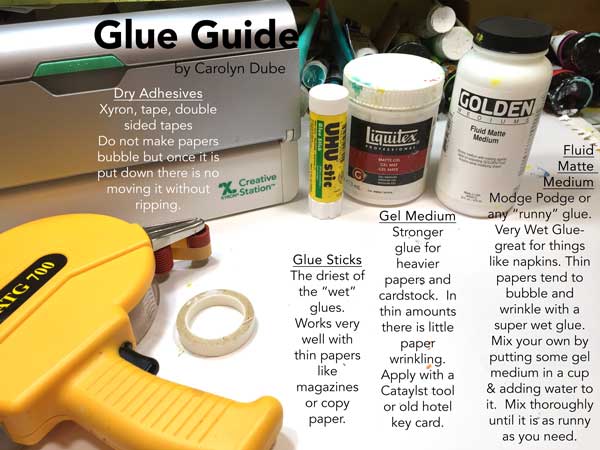 I tend to start with bigger pieces on the bottom.  In the video, I couldn't decide on what to glue down so I gave myself 3 seconds to choose and just start gluing.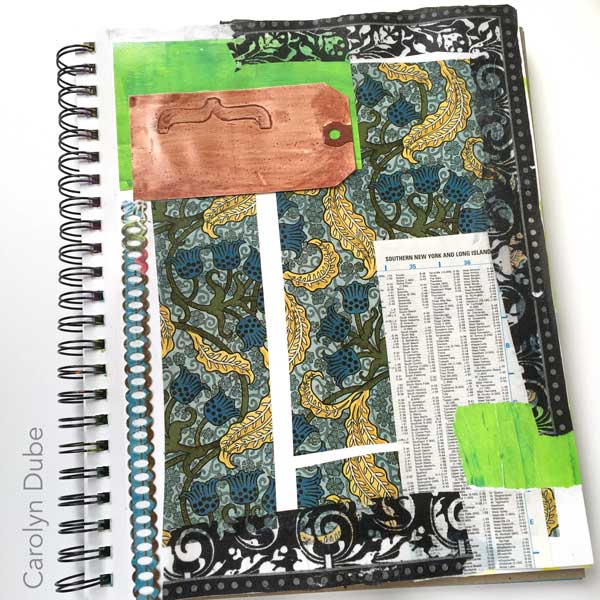 The colors didn't matter when I glued the papers down because of all the color that was added on top.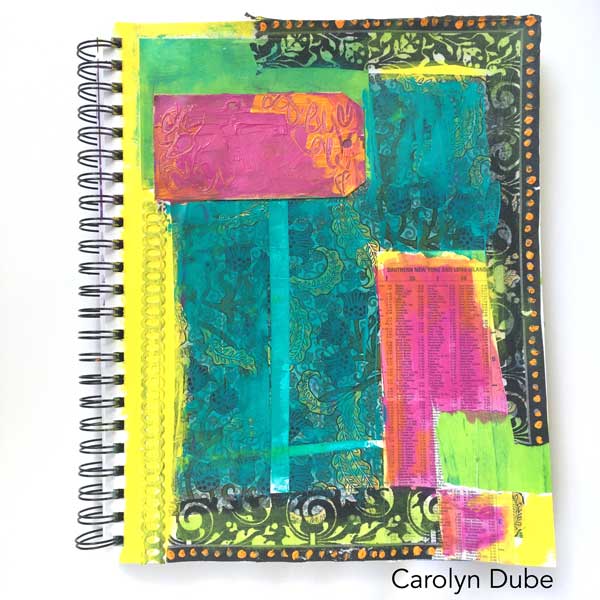 Adding bits of BFF colors top of each other adds depth and interest to a page.  The brush was almost dry of the orange, so it was a very translucent look.  When putting translucent colors on top of each other it almost like mixing them.  So that's why I tend to stay with color BFF's when doing the translucent thing.  If you aren't sure what color BFF's are take a look back at lesson 1 where it is covered in depth.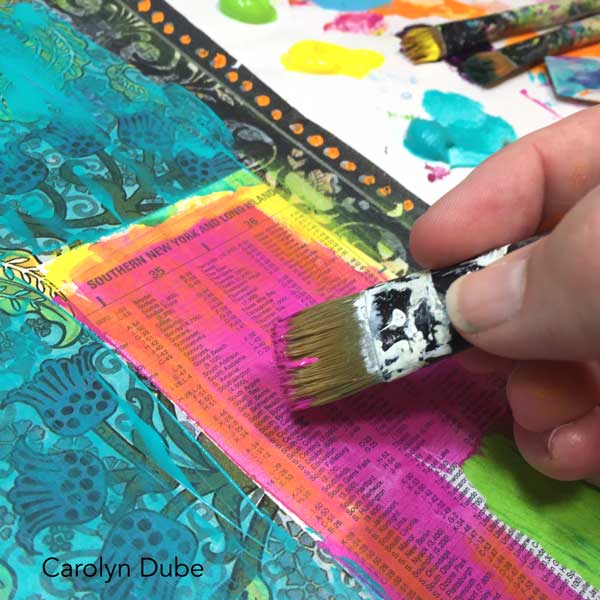 OOPS!  After stenciling the bird as my focal image I realized it was lost in the background so I colored it in.  Then after the paint was dry, just went back over it with the stencil.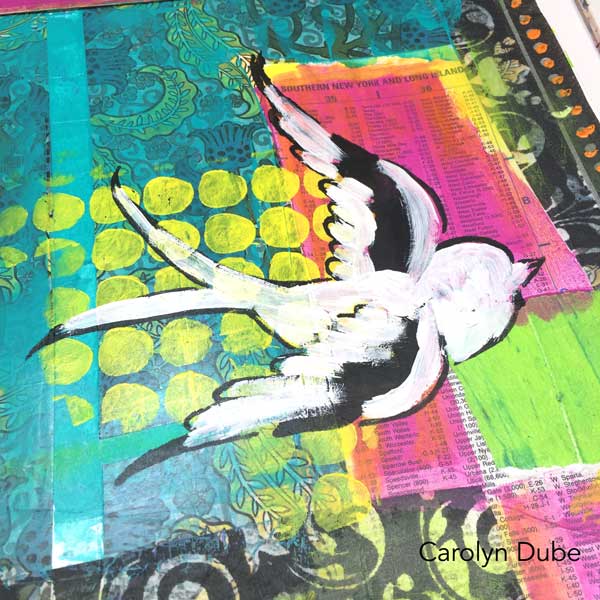 Here's a close up of the final splattering details.  This was the last little touch that made this page feel complete to me.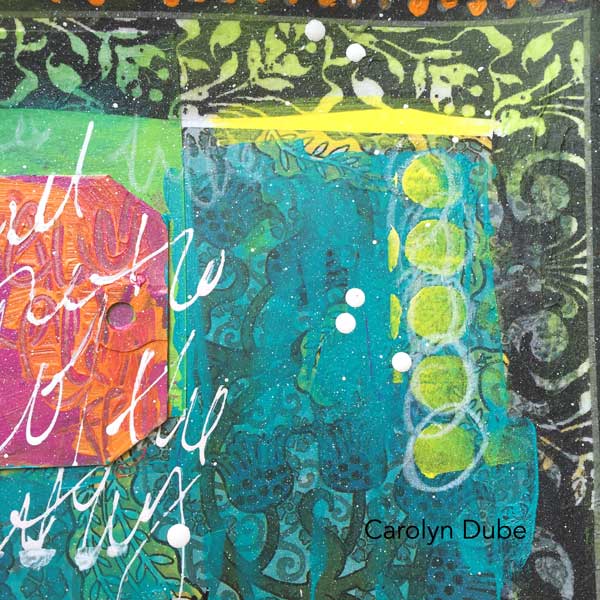 Now it's your turn to play! Grab a bunch of junk papers and start building a collage background!  I'm looking forward to seeing your play!  Share it with us in the secret Facebook group.  Not a member yet? Send me an email (carolyn at acolorfuljourney dot com) letting me know your class username and I'll get you in there!
Questions?  Leave them in the comments below or in the Facebook group.  I answer all questions personally and I trust the computer elves to notify me when a question is posted.  If you don't hear back from me in a day – that means the elves didn't notify me.
Supplies I used in this lesson (and substitute with whatever supplies you have on hand)
Supplies:
Glues: Xryon, Glue stick, gel medium, tape runner, fluid matte medium
Catalyst mini blade
Paints used: Liquitex Heavy Body- Cobalt Teal, Cadmium Orange Hue, Medium Magenta, Vivid Lime Green, Light Blue Permenant, Cadmium Yellow Light Hue
fineliner and white acrylic ink
circles layer me stencil and andrea bird