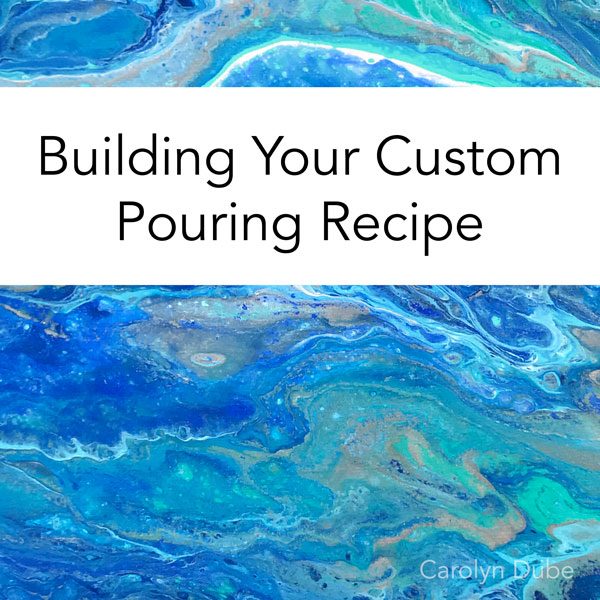 This is all about building your custom pouring recipe.  In the last lesson, you saw what happened when you used multiple pouring mediums.  There was a great risk of texture.  But you can use as many pouring mediums at once as you want and get a smooth look.  How? By making the pouring mediums in each color or combining them into one master cup, and adding it to the paints.  The important part is that there is about the same amount in each color.
When you know how to build a formula, you have the freedom to make one you love and use that recipe over and over or you have the freedom to wing it each time.  I'm more of a wing it and see what happens person.  Since I know the fundamentals of how each pouring medium behaves and interacts, it is much like grandma making gravy or eye balling it when cooking. As you get to know your pouring mediums you too will be able to eye ball it with ease.  The key part is that there is a similar amount of each pouring medium in each color if you want it smooth when dried.
Insert Video-
Video Password:  Every video in the workshop requires a password, it is the same password for every video and it is listed directly under the video so you don't have to remember a thing. You can copy and paste it, and be sure that there are no blank spaces.  The computer elves are very particular about that.
Video Password:PPFUN
Watch/Download on Vimeo. Need help downloading or with other technology issues? Check out the technology help page here.
Now it's your turn to play. 
Questions? Leave a comment here on the lessons page or in our Facebook group.  Not a member of the group yet? Go here to see how to join.
Supplies Used (and as always substitute with what you have on hand or prefer to use)
Pouring medium:
Lots of choices and potential ways to build your custom formula.
Do I have a master formula that I use? Nope.  I eye ball it and wing it each time – keeps it more fun that way!
Since I mix up my colors in bulk and store then in a jar, I am going to add all 3 to each cup but you could
Rainbow eggs to add the paint to the cup, notice how the white sank at one point. That created some churn in the paint, but since this is monochromatic, there isn't any risk of mud happening.
Current pulling on it, like a river of paint.  If you see it going to one side that is telling you that it is lower there.  If you don't like that then add a shim, a poplscile stick to raise it up more level to reduce the current heading that way.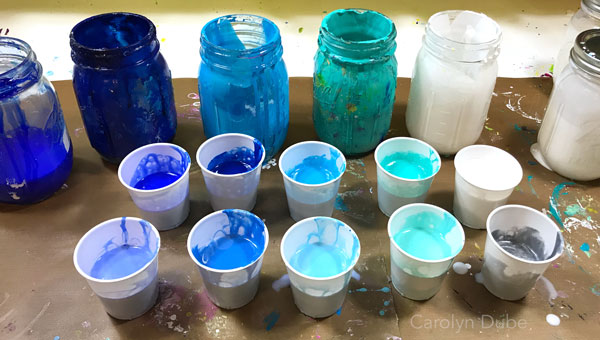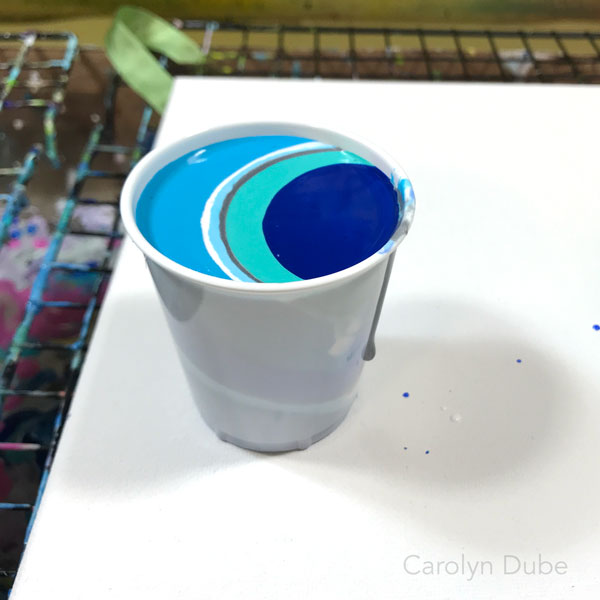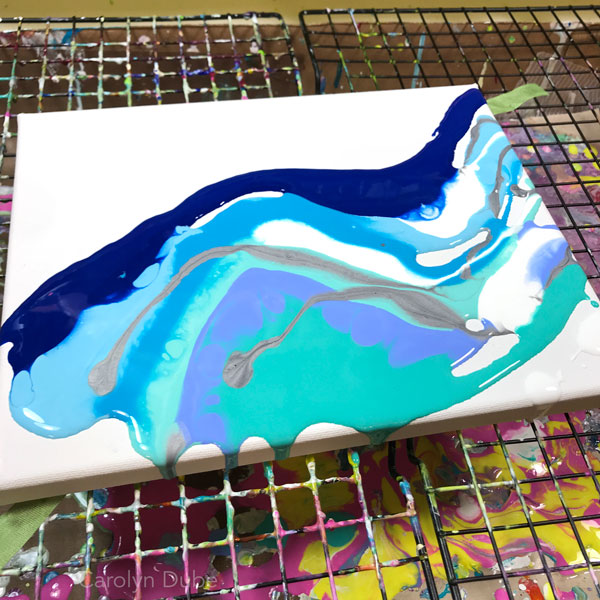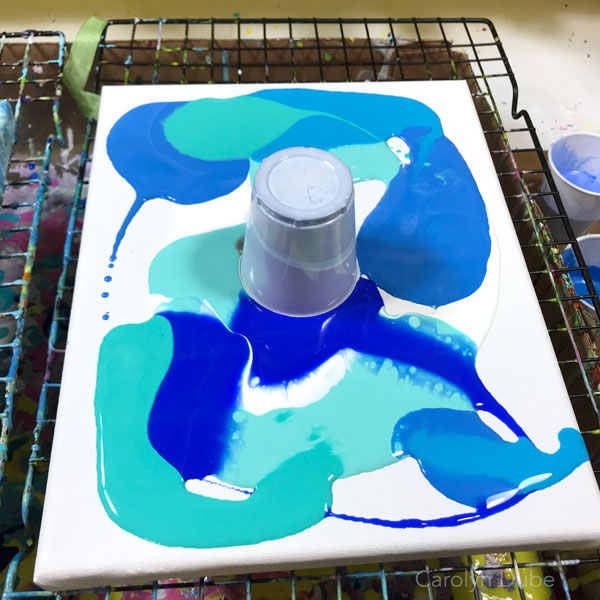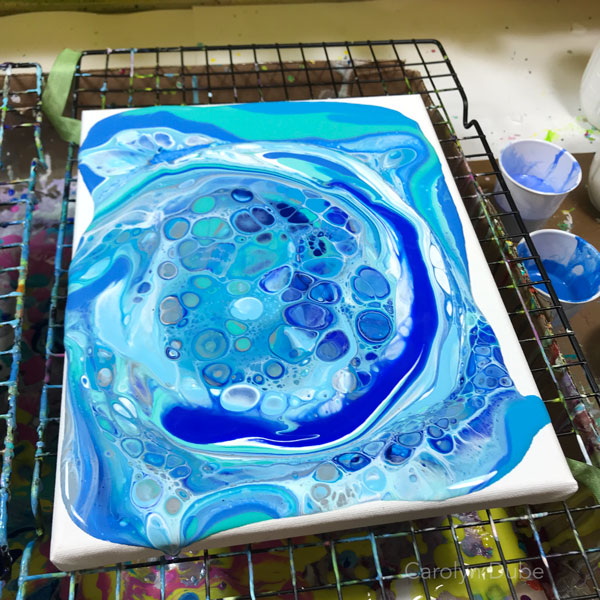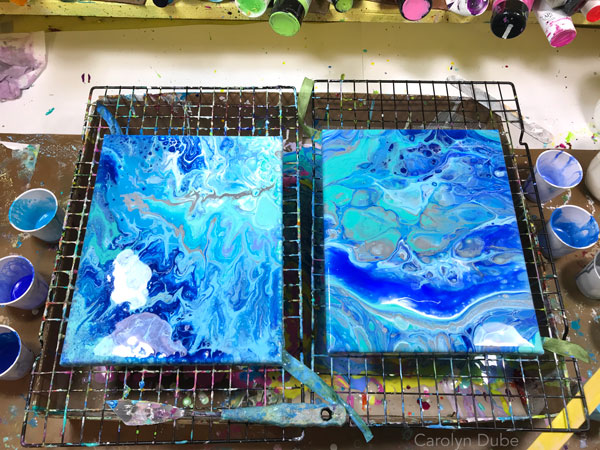 There was a part of this canvas that I just didn't like, so I added more to it.  The deep blue was pulled by gravity, so its shape changed as it dried.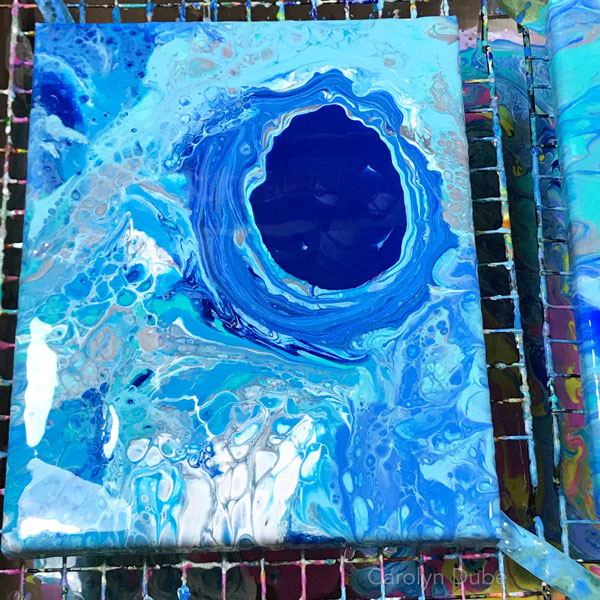 Here they are completely dry. Since I used Floetrol, they have a matte finish to them. If I want the glossy look, I can add a top coat once these are fully cured.