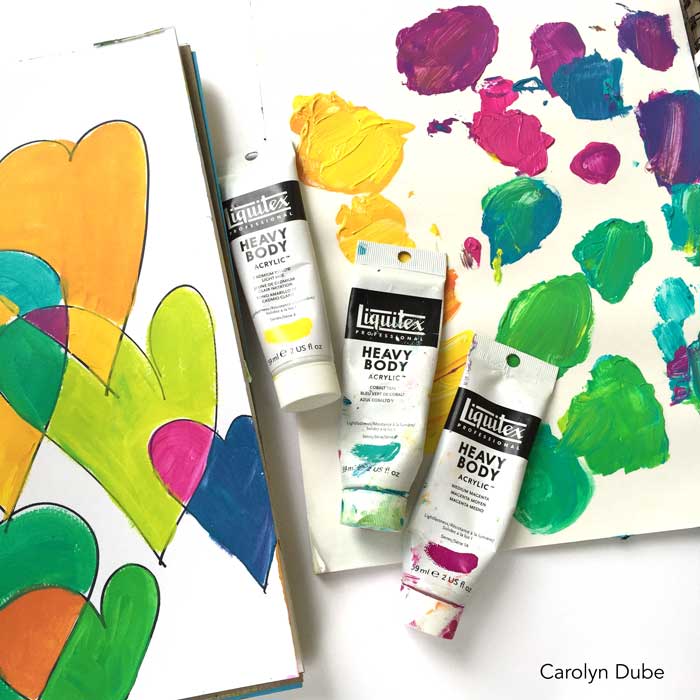 When I started art journaling, I didn't understand color theory.  It was intimidating. I was frustrated.  Color was a mystery to me.  What I knew about colors I learned in elementary school.
Primary colors are colors that you cannot mix: blue, yellow, and red.
Blue and yellow make green
Red and blue make purple
Yellow and red make orange.
But over time, I began to understand the hows and whys of the color wheel in a way that I could easily remember but more importantly, actually apply when I was art journaling. Check out the video for the story of BFF's and Frenemies and then see how that helps mix all the colors on this art journal page from just 3 tubes of paint!
Video Password:ArtFun

Video Password:ArtFun
Need help downloading? Check out the Troubleshooting & Technology Questions page.
Video Password:ArtFun
Video Password:ArtFun
Need help downloading? Check out the Troubleshooting & Technology Questions page.
Save  this color wheel by right clicking on the image and selecting save as, then choose where you want it to be saved on your computer.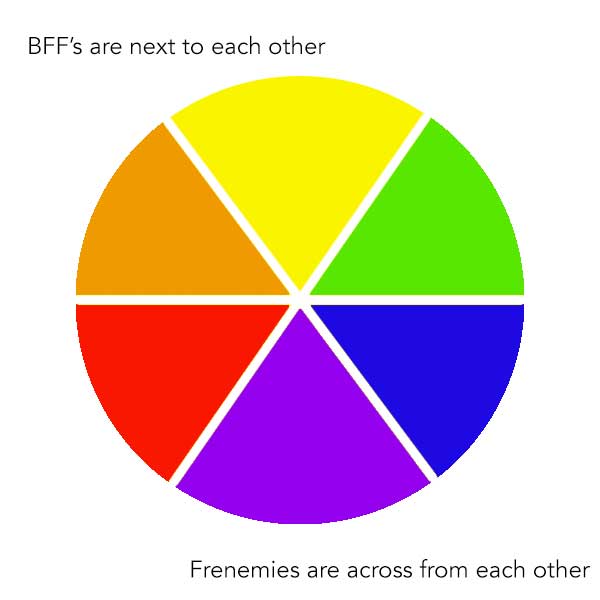 Since purple and yellow are Frenemies, than any color with yellow is a frenemy of purple.  Green and red are Frenemies, so any color with red is a Fremeny of green.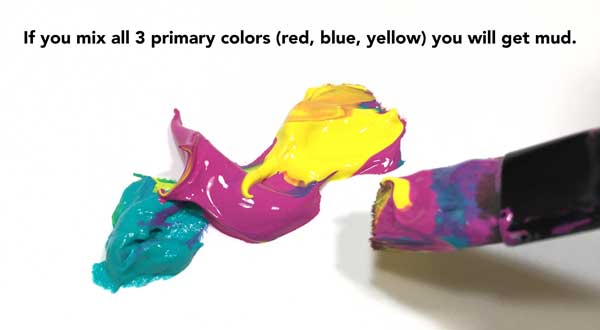 Frenemies
Frenemy colors next to each other are stunning.  They make each other pop in a good way, but that is only if they are not mixed.  If they are mixed they make mud.
Layer one color on top of the other without mixing (as I did with the yellow on the brown in the video) and you can get the pop of frenemy colors without mixing them
Frenemies can make mud if you mix the colors BUT  just a little bit of a frenemy darkens a color.  I used to try to darken colors by adding black to them but the black would over power the colors so easily, even when I used just a speck of black. Now I use a little bit of a frenemy to darken a color. It is much easier for me to control the color this way than with black paint.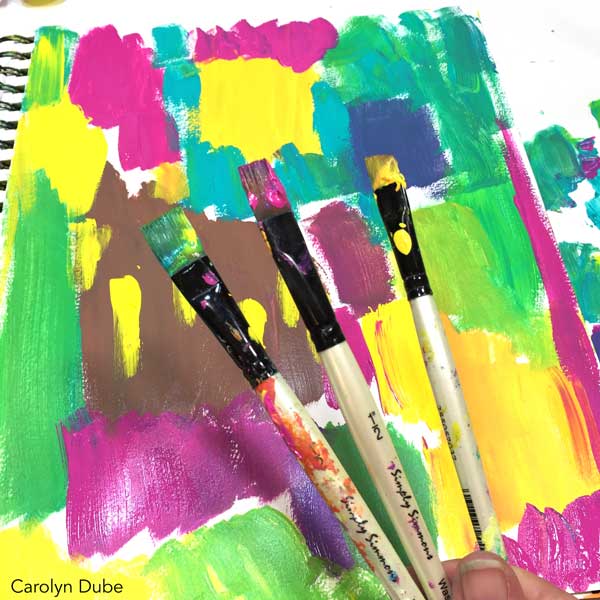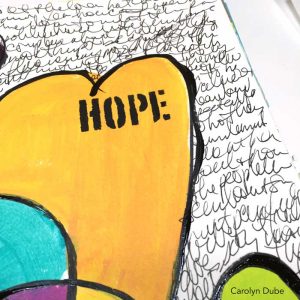 There was a great big O.O.P.S. on this page.  It was an Outstanding Opportunity Presenting Suddenly because "fixing" this  "mistake" led me to adding more dark lines around the hearts.  I hadn't planed to do that ahead of time, but really liked how it looked in the end.  Without the OOPS, I never would have even thought to do that!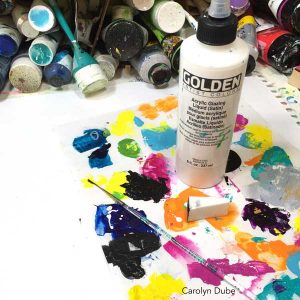 OPTIONAL
I use a lot of heavy body paints. The term heavy body means they are thicker but I don't always want a thicker paint, like at the end this lesson.
Acrylic paints can be thinned out with water or with a medium. One medium that I use frequently is glazing medium.  Why not water?  Water is easily accessible but the drawback is that it can change (water down the color) so that it isn't as vibrant.  For me, this is more noticeable with darker colors.
If you are using a more fluid paint, you won't need to add glazing liquid to your paint.
Why do all of these colors work on this page? Why do they all seem to belong with each other? Because they are all family.  The parents are the 3 primary colors and all that were mixed with them became the kids.  One big happy family made from the same 3 primary colors (a red, a blue, a and a yellow) so they all go together!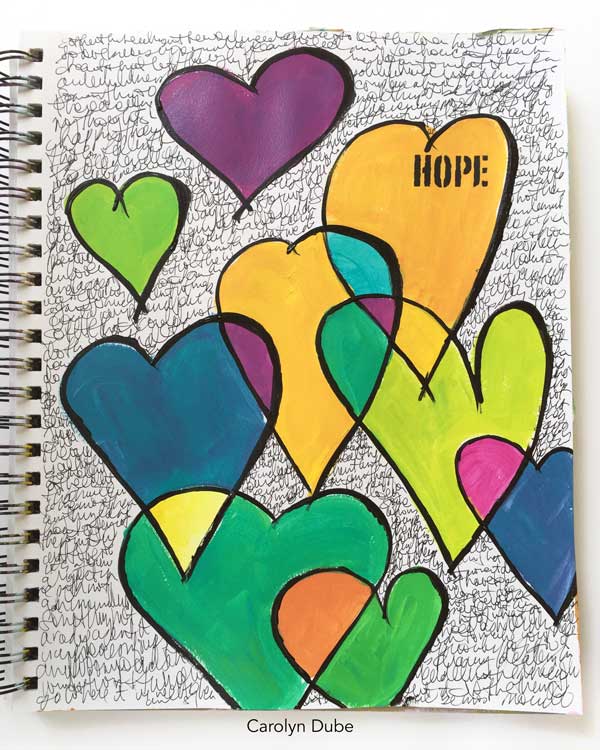 Now it's your turn to play! Grab 3 primary colors, a red, a blue, and a yellow and start mixing!  I'm looking forward to seeing your play!  Share it with us in the secret Facebook group.  Not a member yet? Send me an email (carolyn at acolorfuljourney dot com) letting me know your class username and I'll get you in there!
Questions?  Leave them in the comments below or in the Facebook group.  I answer all questions personally and I trust the computer elves to notify me when a question is posted.  If you don't hear back from me in a day – that means the elves didn't notify me.
Supplies I used in this lesson (and substitute with whatever supplies you have on hand)
Sharpie marker
Carbon Pen
black heavy body paint
3 colors of liquitex paint Cobalt Teal Cadmium Yellow Light Hue Medium Magenta
glazing liquid
art journal
liner brush
uplifting words stencil
cosmetic sponge