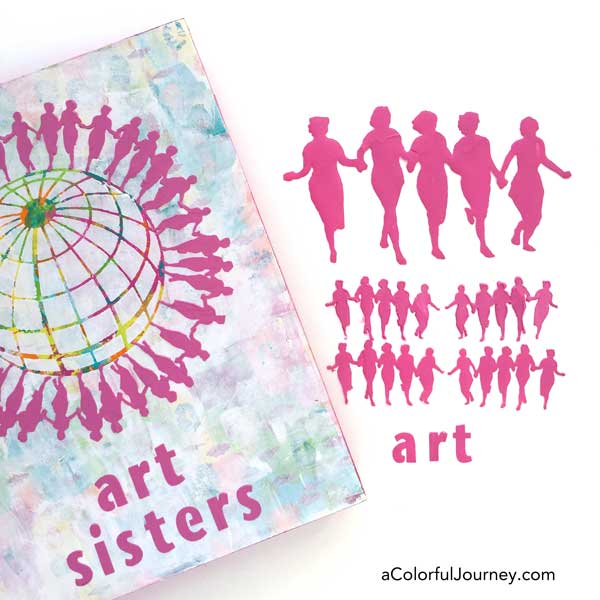 What if you could make decals (3D stickers) from a stencil design and not have to cut a thing out? This a la carte workshop shares the easiest ways from start to finish I have found to do this.
It's all the awesomeness of modeling paste with depth and detail but by making them ahead of time you can rapidly add them side by side (or even on top of each other) without risking smearing or smudging wet modeling paste.
Along with how to make the dimensional decals, we're using them to create a piece of colorful art too!
I've figured out the details so you can focus on the fun. In these videos, you'll see everything from start to finish. You get it all so you can jump right in and start playing. And of course, you'll have access to me to answer any questions you might have in the classroom.
This a la carte workshop contains 40+ minutes of video instruction.  You have lifetime access to the classroom and all materials.  The videos can be downloaded and watched off line as it fits into your schedule!
What about supplies? What do you need? I am a big fan of using what you have or substituting with what you can easily get.  Most importantly for this workshop you need modeling paste.  It can go by several names such as molding paste, texture paste, dimensional paste, or embossing paste.  Notice the word paste in them all- the paste is important.  The one I use in the workshops is here.  A complete supply list with links is in the classroom for you.
So what does it all cost? $15 for any one workshop. $39 for all 3 plus the bonus workshop plus a private Facebook group (but you must purchase all 3 at the same time for the bonus).
This series has 3 a la carte workshops, this one plus Colorful Patterned Papers and Spray Inks and Tissue Paper. Each different from the other and I couldn't stop there! I have a 4th workshop that expands on the techniques of the first 3 workshops. That I am giving for free to everyone who joins all 3 workshops.
Want the complete Modeling Paste Play series and bonus workshop?  You need to purchase them all at the same time for the bonus- you can find that link here.
| Product | Price |
| --- | --- |
| Modeling Paste Play: Dimensional Decals | $15.00 |