Stencil sandwiches are all about reverse stenciling.  As you see this technique in action, notice how different the print is at the very end from the ones in the beginning. After watching this video, Dave (the husband) asked me if I always use black for this technique.  I usually do but of course, you can use any color you want!
Video password:gelprinting
Watch/Download on Vimeo.  Need help downloading or with other technology issues?  Check out the technical help page here.
Stencil Sandwich Technique
Brayer paint onto gel plate
Add glazing medium and mix it on the plate with the brayer (keep the brayer loaded with paint for step 4)
Put stencil on the paint
Take the brayer and spread the paint on the top of the stencil,  so that there is now a coat of paint on both sides of the stencil.
Lift up the stencil and place the stencil on paper.
Put another piece of paper on top to create the stencil sandwich and use your hands or a spare clean brayer to press the papers into the stencil to transfer the paint.
Use the brayer to even out the paint left on the gel plate and repeat the process.  If the paint starts to dry out then add more paint and glazing liquid.
The glazing liquid can be a bit sticky, so I will usually clean off a stencil after this technique by wiping a baby wipe over it or rinsing it off in the sink.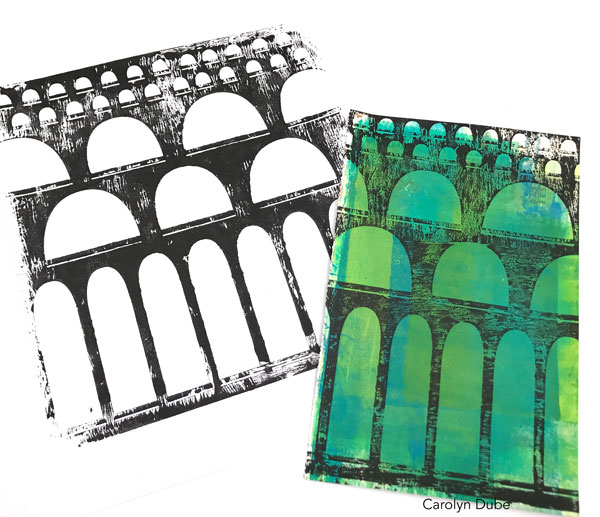 You can make stencil sandwiches and reverse stencil with plain paper or add a layer onto a colorful print.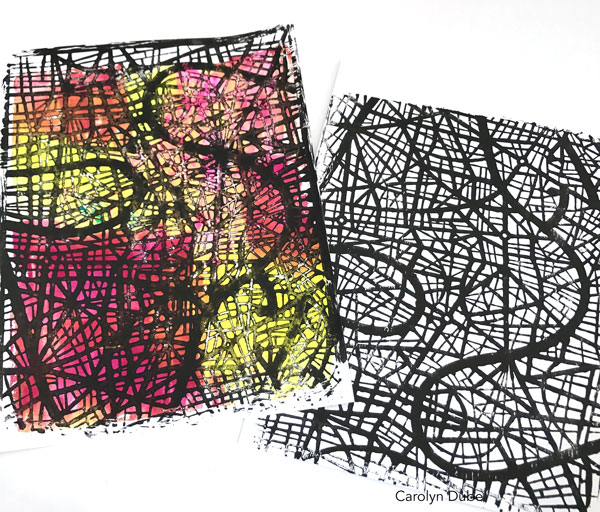 Or put it on book text.  And if you want to make multiples, this is a very quick way to do it.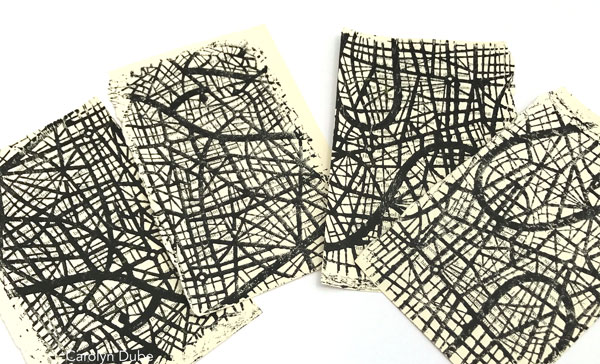 What about prints you don't love?  One thing you can do is add a pattern on top of it. By adding this map to the print, it now has a bit of old world vibe and now I love it.  You never know when you are just one layer away from loving a print!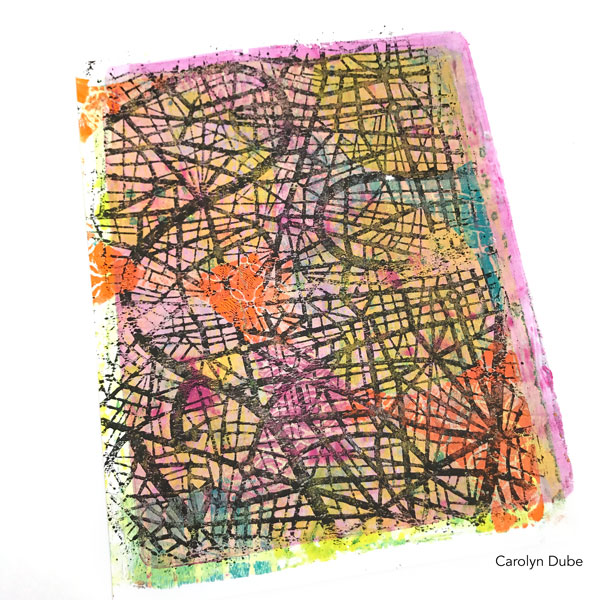 You get different looks at different stages of printing.  By the end, I had very little paint on the plate and it was starting to dry out so a print at this point will have a very different look than a print from the very beginning when there was lots of juicy paint.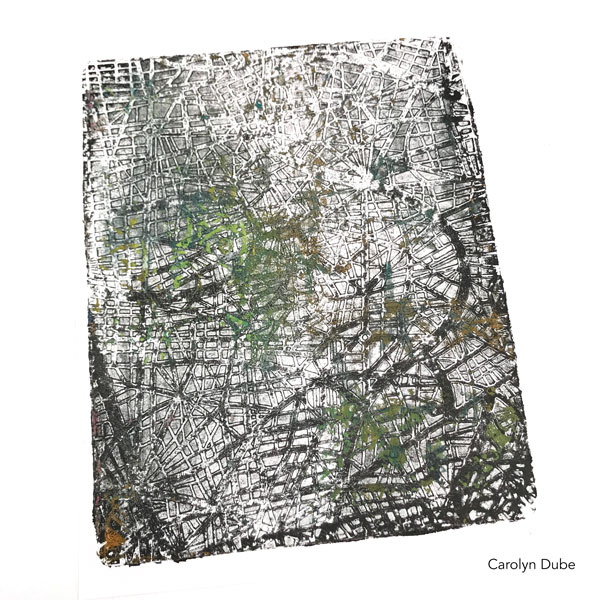 Now it's your turn to play.  Grab a stencil, some glaze, and start making stencil sandwiches!  What if you don't have glaze? This technique will still work but the patterns may not release onto the paper as completely but you may need to use more paint than what I did.
Looking forward to seeing your prints in the Facebook group!
Supplies used in this lesson:
Blickrylic Mars Black
Acrylic Glazing Liquid (I used the Satin finish but you can use gloss too)  at Amazon     at DickBlick
Book text
Paper:90lb paper, a light cardstock at Amazon.
8×10 gel plate:  Gel Press Plates at Amazon   Gel Press Plates at DickBlick
4″ and 2″ brayer:  at Amazon     at DickBlick
You can find all the supplies in used in all the lesson here.