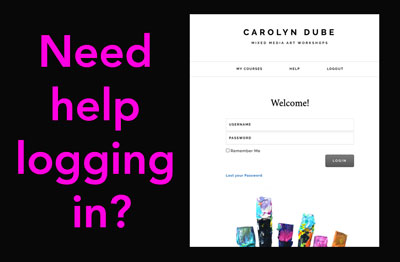 All of your workshops are in one place, your My Courses page inside mixedmedia.carolyndube.com
To access them, you'll need to log in using your username and password on the page that looks like the image above.
Click on the link below that best fits your situation.
I know my username and password and am having trouble logging in.
I am new here and wondering if the computer elves will be sending me a username and password..
I don't know my username or password.
I didn't get the reset password email.
I have a question about logging in not answered here.
You know your username and password, and it's not working.
Try using a different browser or app on mobile. For example, if you're in Firefox, try Chrome. Some browsers are extremely glitchy, especially if they are not updated regularly.
If you're on mobile, updating your operating system and apps (out of date things can be very glitchy)
If you're on a desktop or laptop, open an incognito window and then try to log in there. That will go around any caching issues that may be getting in your way.
If you're feeling techie, empty your cache and browsing history.
Reset your password using the lost password link on the log in page.
If you've taken any other workshop online with me in the last 4 years, you already have an account with a username and password. Even if it was Permission to Play 4 years ago, you can log right in and your new workshop will be waiting for you on your My Courses page.
You can log in right now using your email (that's your username) and password. If you've forgotten it, no problem, use the lost password link to reset it.
If you're brand new to my workshops, the computer elves just created an account for you and sent you an email with your username and password. It's a rather boring looking email and it can sometimes play hide and seek in your spam or promotions folders.
If you don't see it there, you can reset it using the lost password link on the log in page. Should there be any issue with that, simply email me (carolyn at acolorfuljourney dot com).
Resetting Your Password
Your username is your email that you used to purchase or joined the workshop. You can reset your password using the link on the log page that says Lost Password.
What if you did the reset password link and didn't get the email? Check your spam or promotions because it can sometimes go there.
Sometimes it gets trapped in people's security filters or ISP filters. If that happens, email me (carolyn at acolorfuljourney dot com). Let me know what you'd like your password reset as and I'll do it manually.
If you don't see an answer to your situation, simply send me an email (carolyn at acolorfuljourney dot com) with as much information as possible The more information you can give me, the faster we can figure this out together.