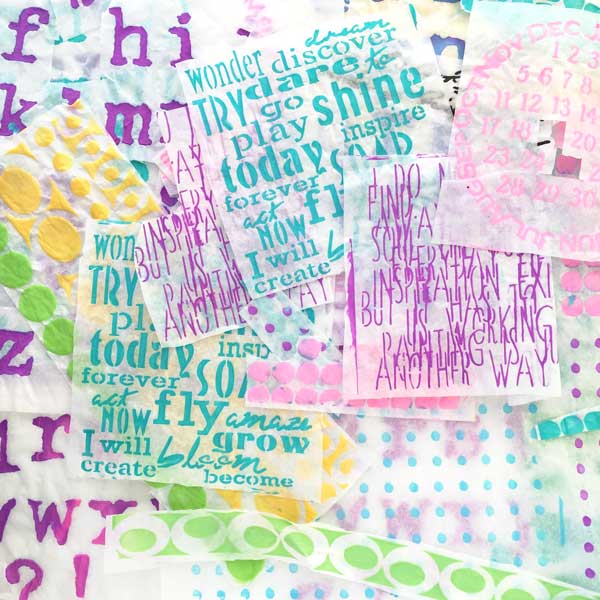 Welcome and thank you for joining the fun with Modeling Paste Play!
Keep an eye on your email for the link to get into the classroom.  It will be sent to the email you used when checking out.
If you don't see it promptly (within 5-10 minutes or so), please check your spam and/or promotions tab if in gmail.  If, after 60 minutes you don't see the email, let me know at support at carolyndube dot com (written the long way to reduce the spam/hacker risk) and we'll get it figured out. Sometimes emails randomly get hung up in the filters of internet service providers.
Supplies
Here's the supply list for Spray Inks and Tissue Paper and the basics video for you to look over while you're waiting for the computer elves to send the link to the classroom.   All supply lists and videos are also in the classroom so they will be there any time you want them.
What I used and feel free to substitute with whatever you have!  
Here are the supplies I will be using in this a la cart workshop.  I have included the list here of the ones I am using…but please please please substitute with what you have on hand or with brands you prefer.  In my experience, if I am buying 1 or 2 things, Amazon is a good deal. If I am buy more than that, I get a better online deal at Dick Blick or Blue Moon Scrapbooking.  For that reason, I have included links to several places whenever available to make it as easy as possible for you.
Flexible Modeling Paste- at Amazon (this is a big jar like what I used in the video 32oz.)  at DickBlick (they have several sizes available)
Dylusions spray inks: at BlueMoon Scrapbooking   at Amazon  The colors I used were: London Blue, Squeezed Orange, Cut Grass, Bubblegum Pink, Black Marble, Vibrant Turquoise, Crushed Grape at
Heavy bodied black paint- black Golden
Lemon Zest Dylusions Paint at BlueMoon Scrapbooking   at Amazon
Catalyst Blade Mini 1 at DickBlick  at Amazon
fluid matte medium (or other runny glue) at Dick Blick   at Amazon
paper – I used 90 lb weight cardstock at Amazon
From your grocery or hardware store: cosmetic sponges, small disposable drinking cups, large flat toothpicks or other item to mix color into modeling paste
These are the StencilGirl stencils I used in the video.

This video covers the very important topic of how to clean your stencils after you've used them with modeling paste! This video is included in all four of the modeling paste play a la carte workshops. 
Video password:cleaning
Video password:cleaning