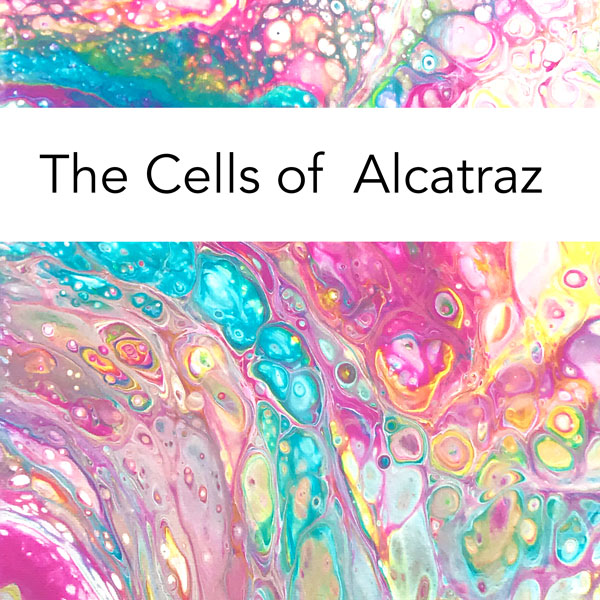 When you do a dirty pour, the cells are amazing when it is an island but as it stretches out on the canvas the cells stretch and change.
Insert Video-
Video Password:  Every video in the workshop requires a password, it is the same password for every video and it is listed directly under the video so you don't have to remember a thing. You can copy and paste it, and be sure that there are no blank spaces.  The computer elves are very particular about that.
Video Password:PPFUN
Watch/Download on Vimeo. Need help downloading or with other technology issues? Check out the technology help page here.
Now it's your turn to play. Layer those colors in a cup and flip it!  See your island of cells move and shift as the layers of color mingle and merge.
Questions? Leave a comment here on the lessons page or in our Facebook group.  Not a member of the group yet? Go here to see how to join.
Supplies Used (and as always substitute with what you have on hand or prefer to use)
Pouring medium: Floetrol
Dimethicone
The first cup has colors of similar intensities while the second cup has the deep blue.  Adding in a darker or stronger color impacts the look of the final canvas.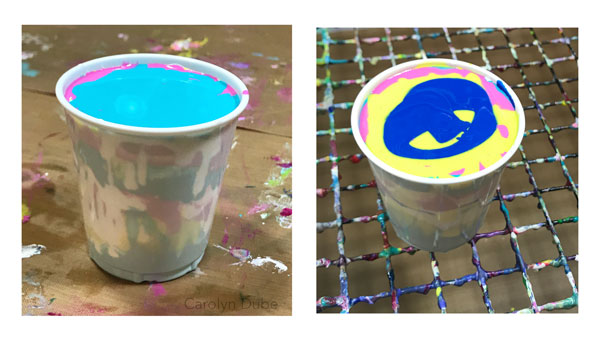 Once you have the cup flipped and ready, add some more paint around it.  Why? This will help the paint spread to cover more of the canvas. I tend to use white to do this because it is the least expensive paint and it won't make mud as it mixes with any color in the cup.  So could you use yellow to do this? Or blue? Or any color? Absolutely!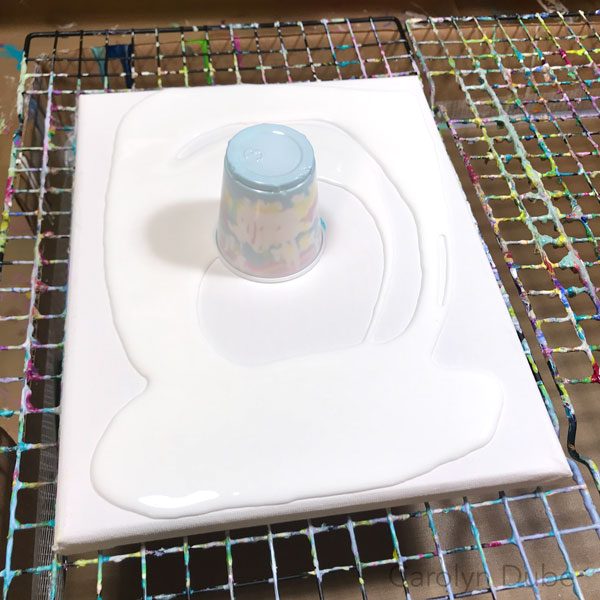 When the cup is lifted, there is an island of cells.  What made all these cells?  Using Floetrol, the most cell making of the pouring mediums, and a drop of dimethicone in each color.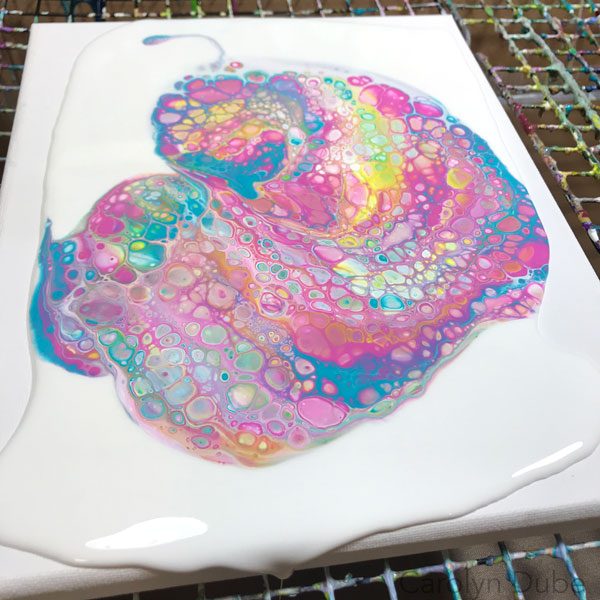 Notice how the darker blue pops and how it has impacted the other colors.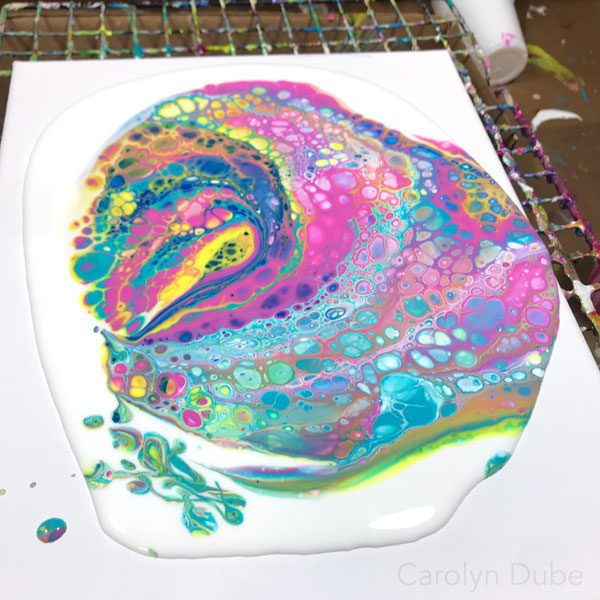 The islands of cells spread and move as gravity pulls on the paint. But the entire canvas wasn't covered, so more paint was added to fill in.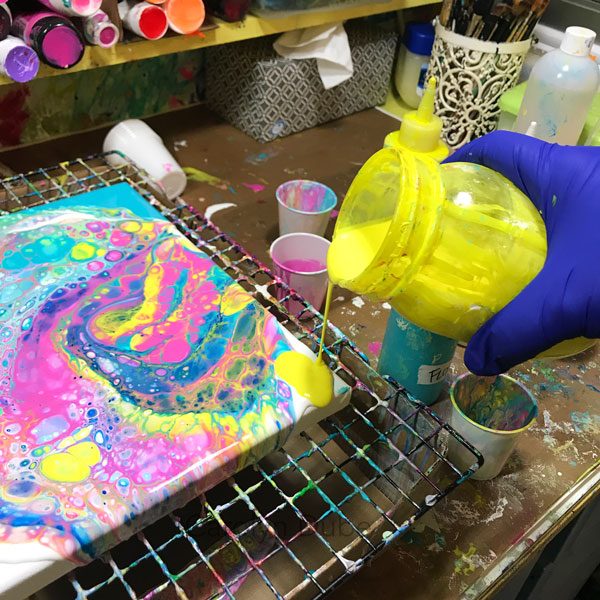 If there is any paint left in your flip cup, that too can be added.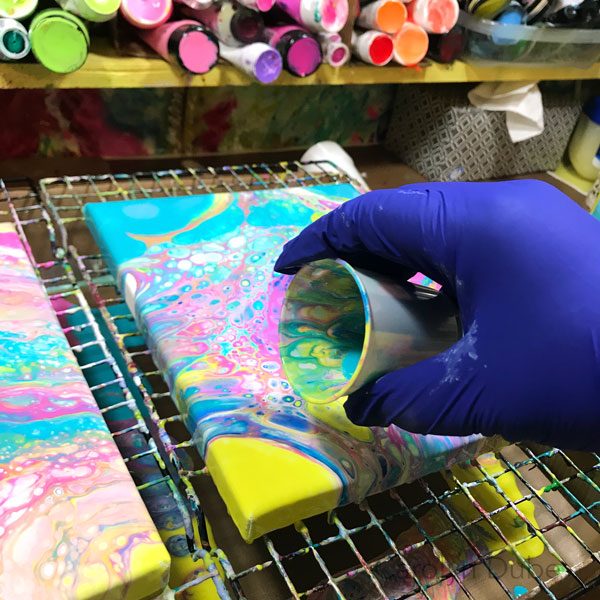 Here's where the canvases were when the camera turned off, and during the drying process, it can still move.  If you want to reduce that movement, be sure it is level as it dries.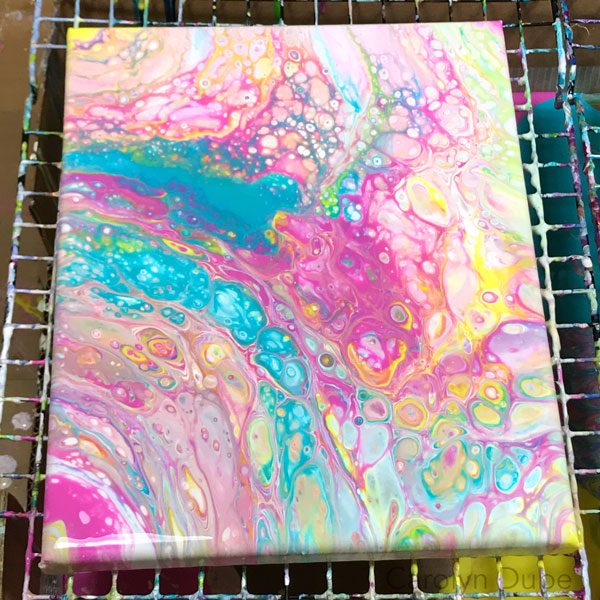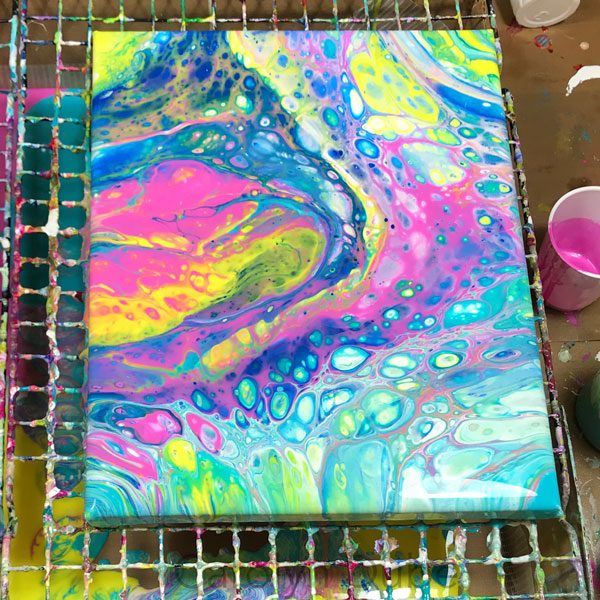 Here they are completely dry.  The colors darkened up a bit as it dried- that happens because of the paints. The less pigment in a paint, the more likely it is to change color slightly as it dries.  Since the blue I used was not an artist grade paint, it darkened as it dried.  Artist grade paints tend to have purer pigments and more of them which enables them to dry more true to color.