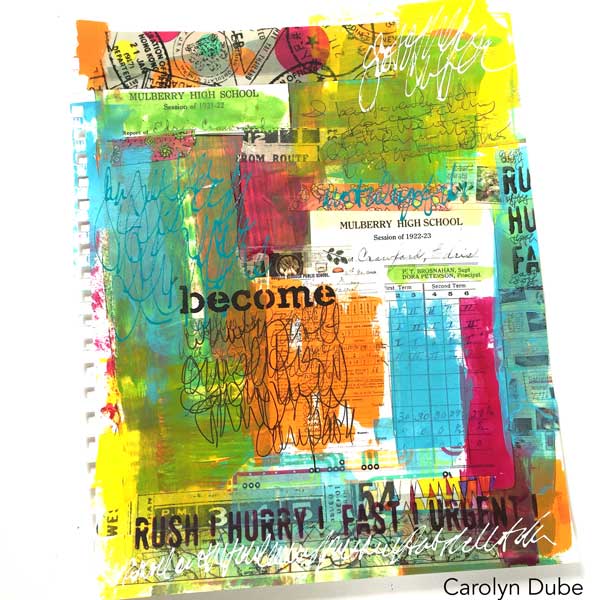 This lesson is brought to you by the number 3.  As I build this page you'll see how 3 can help me not only build the layers but also decide what to do if I feel like a page isn't quit complete. You'll also see how I start with a background that is ugly.
Working in 3's is not a precise science.  Granted, counting to three is pretty straight forward, but what you consider an element to count is wide open for interpretation.  In the video, you'll see how I can be very literal finding 3 exact elements and how I can count 3 general areas.
Doing things in 3's is a guideline to…guide you…not a rule that must be followed.  Working in 5's or 7's or 2's or 4's is absolutely fine!  After all this is mixed media art journaling – it's not about the rules, but about the process, having fun, and creating!
Video Password:
Insert Video 1
Video Password:
Watch/download on Vimeo.
Need help downloading? Check out the Troubleshooting & Technology Questions page here.
Video Password:
Insert Video 2
Video Password:
Watch/download on Vimeo.
Need help downloading? Check out the Troubleshooting & Technology Questions page here.
This is the ugly background that was the springboard for the final page.  I didn't like the greens and the dark colors but I didn't think it was a total obliterate level of ugly.
I thought about what parts I didn't like about it.  That is what helped me decide what to add to the page next.
I didn't love all that green so some of it had to go.  So that is why I used the report card print outs.  The would cover up quite a bit of the green.
I didn't like that it had no pattern. It needed little bits of pattern all around.  That's why I grabbed for the washi tapes.  What if you don't have washi tapes? You can get a similar effect by just cutting strips of patterned papers in different widths.  You'll attach them to your art journal page with glue stick or gel medium.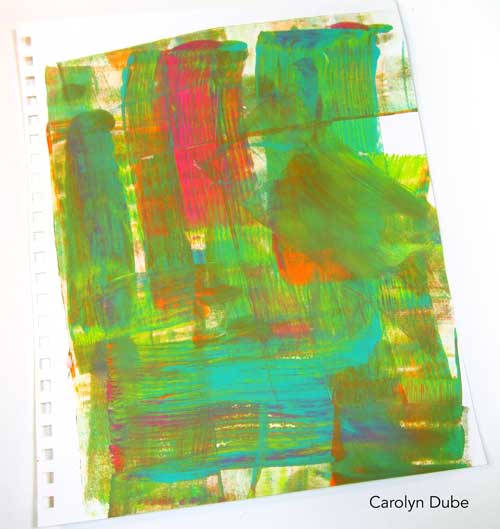 Using a thin layer of paint, applied with a tool like a Catalyst Blade or old hotel key card, allows what is below to show through.  The report cards were printed on an ink jet printer and by putting a quick thin layer of paint on them, the ink did not smear or run.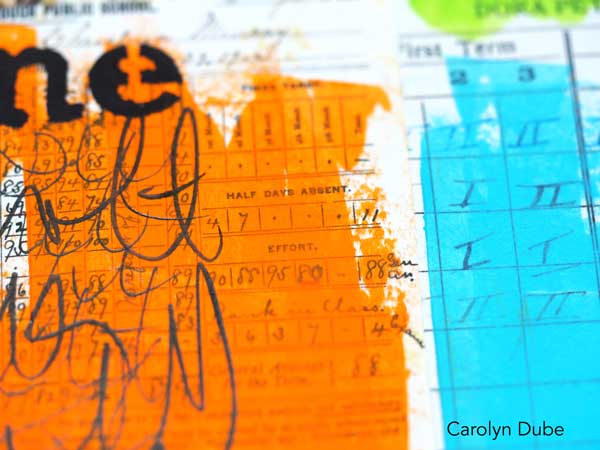 Now it's your turn to play!  I'm looking forward to seeing your play!  Share it with us in the secret Facebook group.  Not a member yet? Send me an email (carolyn at acolorfuljourney dot com) letting me know your class username and I'll get you in there!
Questions?  Leave them in the comments below or in the Facebook group.  I answer all questions personally and I trust the computer elves to notify me when a question is posted.  If you don't hear back from me in a day – that means the elves didn't notify me.
Supplies I used in this lesson (and substitute with whatever supplies you have on hand)
Carbon pen
Fude pen
fineliner in white and blue
report card printouts
washi tapes
journal page from a canson journal
Now is the Time lg.
mixed media mail stencils
paints: Golden Quiacridone Magenta, Liquitex cadmium orange hue, vivid lime green, light blue permanent, yellow cadmium light hue