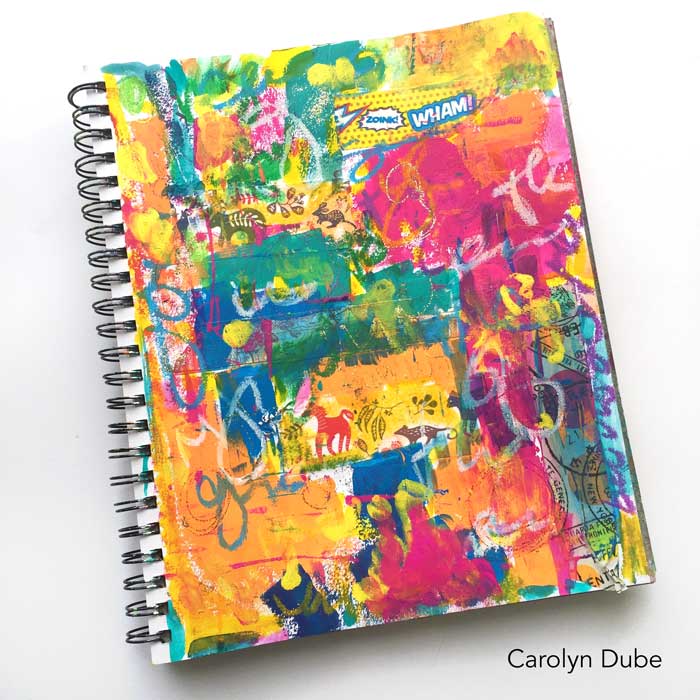 When I started art journaling, I got excited about a supply, bought it, and then didn't use it much.  It was sort of like speed dating and meeting someone for 5 minutes then being shocked we weren't soul mates that could read each other's minds.  It takes time to get to know someone and the same is true of art supplies.
Getting to know your supplies is lot like dating.
some you hit it off with and spend more and more time with becoming soul mates/bff's

Some you are turned off by so you never use them again

Some are on again off again type of thing not a favorite but not turned off by them
Video Password:ArtFun

Video Password:ArtFun
Need help downloading? Check out the Troubleshooting & Technology Questions page.
Video Password:ArtFun

Video Password:ArtFun
Need help downloading? Check out the Troubleshooting & Technology Questions page.
As you are on a "date" with your art supplies here are some things to explore about each supply.
Is it opaque or translucent? Can you see through it or does it cover up what's under it?
Do you like how it feels when you use it?
Can you make big marks (like I did with the paint and the blade) or smaller marks (like scribble writing) with it?  A supply can often do both kinds, just depends on how you use it.
How does it react to the other supplies?  The oil pastels resist the watercolors.
Does it give you bold colors or softer colors?
Do you like having lots of pattern showing from the first layer or do you like just having hints of it peeking out here and there?
Do you like the look of lots and lots of color or do you enjoy more white space?
The general formula for me when I am doing background pages with a variety of supplies
Start with a bit of pattern for the first layer.
I used washi tapes. You can substitute with strips of patterned paper or anything else!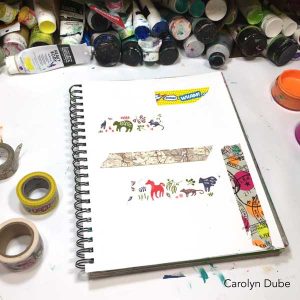 Next, add big swaths of color with paint.
I used a Cataylst blade tool here.  You can substitute with an old hotel key card or piece of cardboard.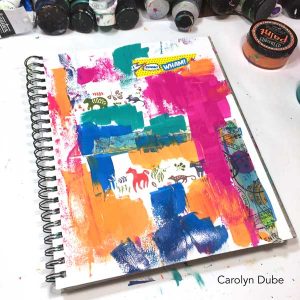 Then, add details.
I did this with by scribbling with oil pastels and adding watercolor here and there with touch of glitter.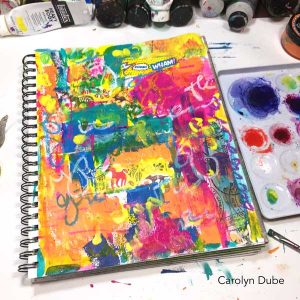 Remember how I used the deli paper to lift up the damp paint in the video? Here you can see the little bits of paint being deposited all around by the deli paper.  What if you don't have deli paper?  Use regular copy paper.  I find thin or cheap paper works best for this technique.  This is a great way to deal with Frenemy colors because the paint is being layered not mixed.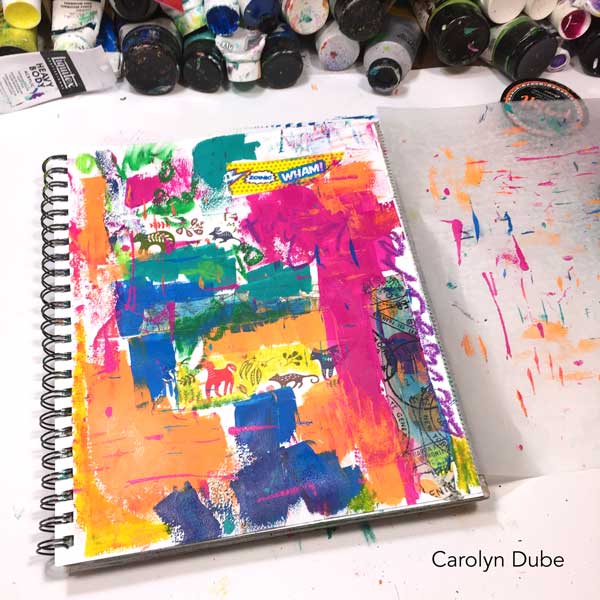 Now it's your turn to play! Grab some of your supplies and explore as you create layer after layer to build a background!
I'm looking forward to seeing your play and hearing what supplies called to you to use!  Hope you'll share it with us in the secret Facebook group.  Not a member yet? Send me an email (carolyn at acolorfuljourney dot com) letting me know your class username and I'll get you in there!
Questions?  Leave them in the comments below or in the Facebook group.  I answer all questions personally and I trust the computer elves to notify me when a question is posted.  If you don't hear back from me in a day – that means the elves didn't notify me.
Supplies I used in this lesson (and substitute with whatever supplies you have on hand)
catylst mini blade
oil pastels
dylusions paints
washi tape
watercolors
journal
stickles…glitter glue
deli paper