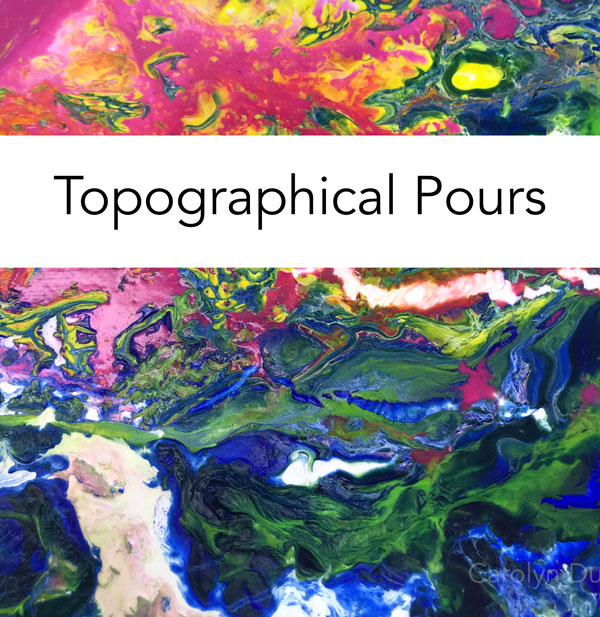 What are topographical pours? They are ones that end up with texture.  The texture resembles colorful islands and rivers and mountains like what you would see on a 3D topography map- hence why I call them this.  I am going to go to the extreme here with the pour to create lots of texture and then at the end of the video I'm going in to detail about how this can help you get the look you want when pouring a canvas. And if you know what causes that texture, if you want to avoid it, you know what not to do.
Insert Video-
Video Password:  Every video in the workshop requires a password, it is the same password for every video and it is listed directly under the video so you don't have to remember a thing. You can copy and paste it, and be sure that there are no blank spaces.  The computer elves are very particular about that.
Video Password:PPFUN
Watch/Download on Vimeo. Need help downloading or with other technology issues? Check out the technology help page here.
Now it's your turn to play. Grab your paints and pouring medium and mix up some colors. If you want texture, use several pouring mediums and if you don't want texture, be sure to only use one.
Questions? Leave a comment here on the lessons page or in our Facebook group.  Not a member of the group yet? Go here to see how to join.
Supplies Used (and as always substitute with what you have on hand or prefer to use)
Pouring medium: Floetrol, Liquitex Pouring Medium, and Deco Art Pouring Medium
Reusing an ugly canvas
Should you happen to make any poured paintings that you don't like, you can always cover over them. Here I took one I didn't like and just added a bunch of white paint mixture to take it back to the look of a blank canvas.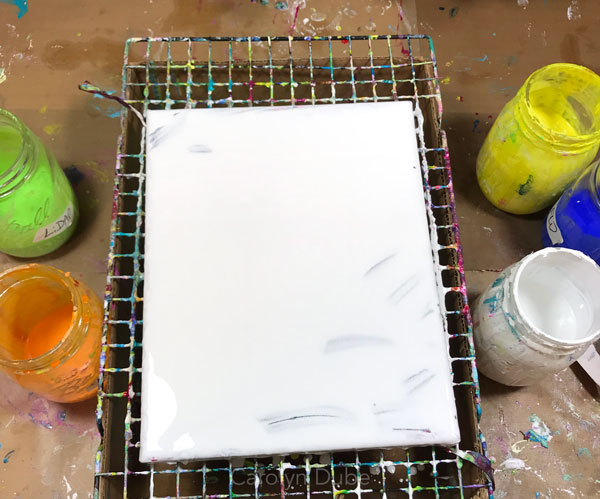 There are 3 different pouring mediums being used.  The green and orange use the Deco Art Pouring Medium.  The white and pink are Liquitex Pouring Medium.The yellow and blue are Floetrol.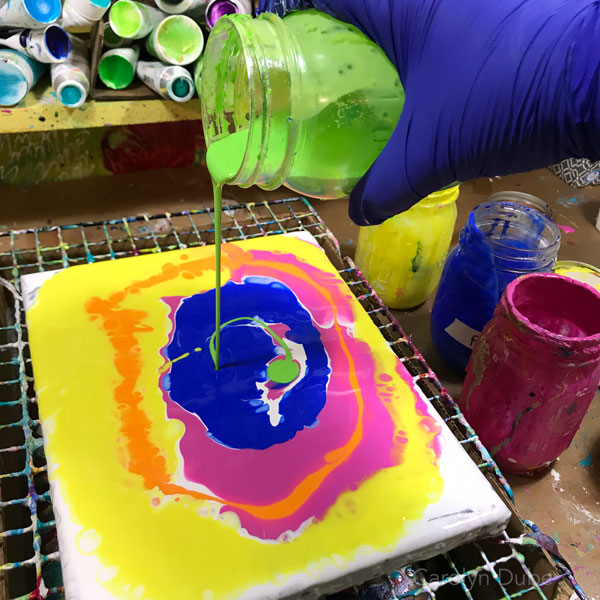 What impacts smoothness when dry?  Consistent drying.  What impacts consistent drying time?  Have a consistent mixture throughout the canvas.  Since I used 3 different pouring medium, and a ton of paint, it created inconsistent drying though out the canvas which led to the texture. What if you want to avoid any texture?  Then use the same pouring mixture in every paint color and have each color be as close to the same consistency as possible.
Love the look of Floetrol and its cells but want it glass smooth? Then use a wood panel to pour on or some other surface that is smooth and once it is dry and fully cured,  add gloss to it.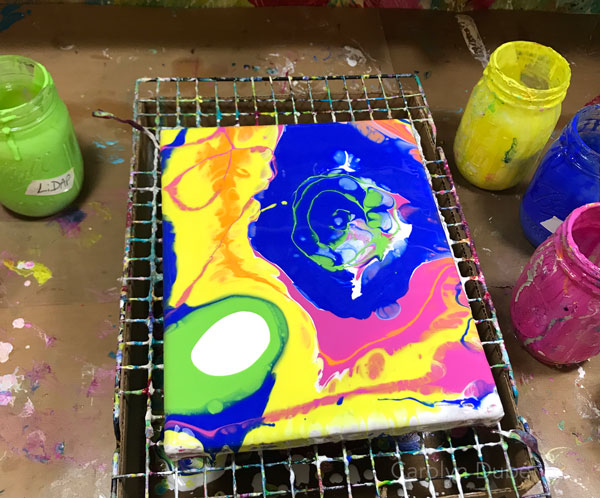 There is lots of paint on here- as you saw in the video as it spilled over the edges.   Some of it is syrup, so that makes it flow or move easily. Some of it is like honey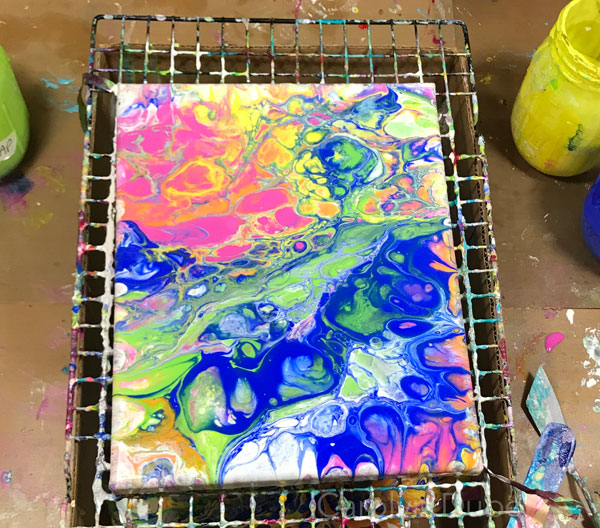 What makes it shiny when dry?  Using a shiny pouring medium and a shiny paint.  If you use a matte paint, you will get more of a matte look when the canvas is dry. The pink paint on the middle right of the canvas below is shiny but the blue is matte.  Having both happen in a painting adds to the topography of this.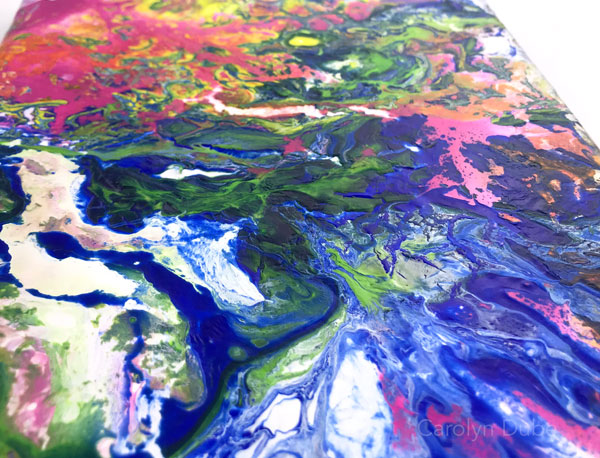 Here's what it looks like all dry and from straight on, the texture isn't nearly as pronounced when looking at the canvas compared to when it is at an angle and the light catches the texture. What that means is when a canvas is on the wall, the texture is much less noticeable, even when it is extreme texture like what was created here.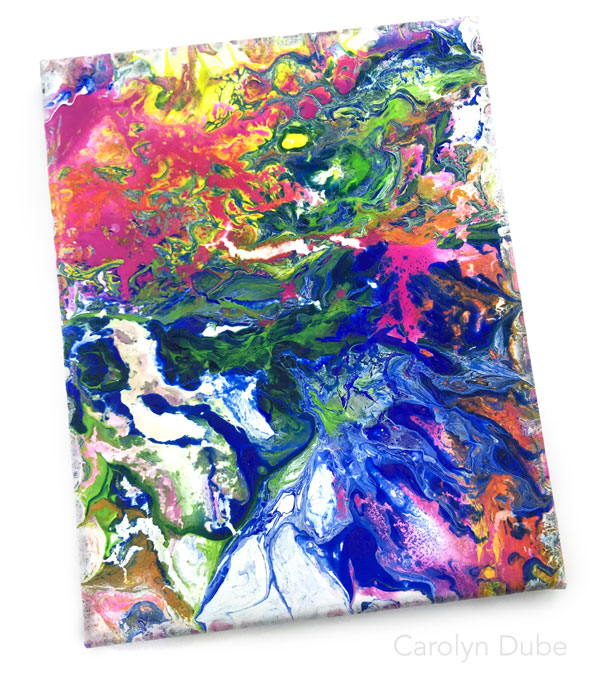 The Skins
The paint that builds up in the box as I make pours to make the acrylic skins. Once it is fully dry, I peel it off the non stick teflon sheet in the bottom of the box.  Those skins were instrumental in helping me understand how and why the paints were behaving on the canvases because of how much paint was involved.  In the box there is a much larger amount of paint, simply because it can't run off the edges, it's a box after all.  Once I understood how the pouring mediums were behaving in the more extreme cases of lots of paint, it was much easier to understand how those forces were impacting a canvas with less paint.
If you're using multiple mixtures of pouring medium on a single canvas, there is greater risk of texture.  I say risk because if you less less paint that what I did, you might or might not get any noticeable texture when it dries.  But if you do get texture, you now know why that is happening.
What do I do with the skins?  I use them in art journals, to make cards, I will take my favorites and put them on a canvas or wood panel.