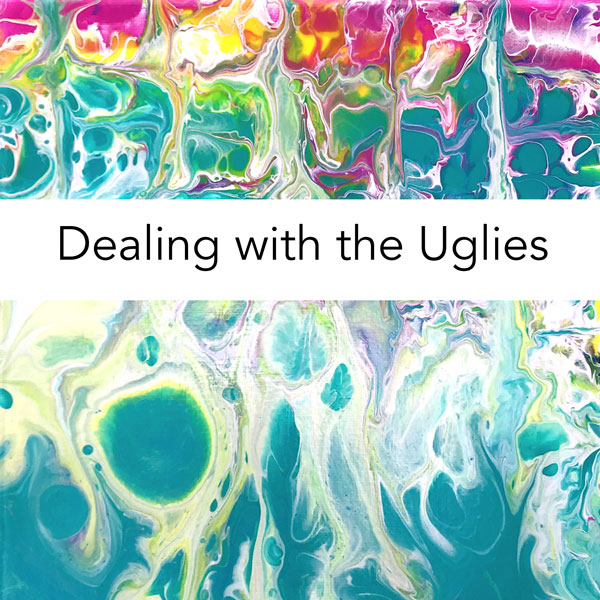 Ugly happens to us all.  But what can you do when it happens?  The answer is waiting for you in the video! I'm working on 2 canvases at once, and you'll see why that can be very handy if you have any impatience issues.
Insert Video-
Video Password:  Every video in the workshop requires a password, it is the same password for every video and it is listed directly under the video so you don't have to remember a thing. You can copy and paste it, and be sure that there are no blank spaces.  The computer elves are very particular about that.
Video Password:PPFUN
Watch/Download on Vimeo. Need help downloading or with other technology issues? Check out the technology help page here.
Now it's your turn to play. Use something like the end of a Sharpie marker or end of a paint brush to move the paint around and if you ever have a  part of your canvas you don't like, erase it and start fresh.
Questions? Leave a comment here on the lessons page or in our Facebook group.  Not a member of the group yet? Go here to see how to join.
Supplies Used (and as always substitute with what you have on hand or prefer to use)
Pouring medium: Liquitex Pouring Medium and Floetrol
Dimethicone in the white squirt bottle.
As the paint was added, the Frenemy colors were kept apart, but this is fluid paint after all, so after a few paint moves, they will create a bit of mud. The canvas on the left used the Liquitex pouring medium and the one on the right used Floetrol.  You might notice in the video how much more easily the Liquitex one spread or flowed, since it was more of a syrup mixture.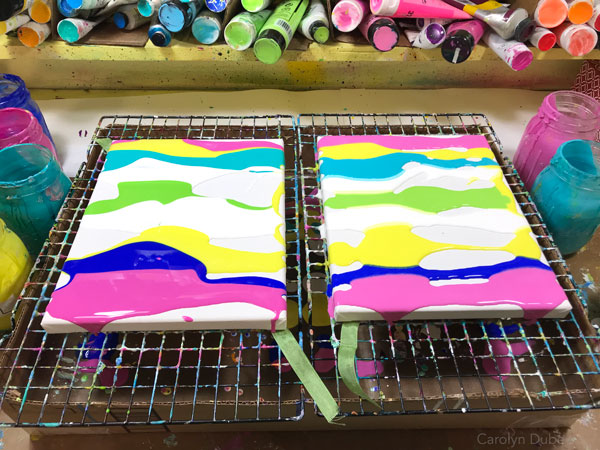 Drag things through the paint to create more details and lines.  Take the end of a Sharpie marker or end of a paintbrush and drag through the paint.  As you do,the colors will be moved along that path.  You can also create lines using something like a shipping tag or piece of thick paper or even an old hotel key card/gift card.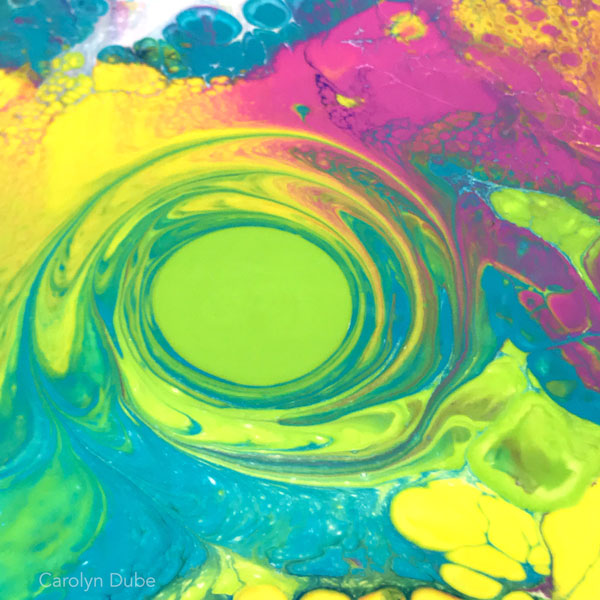 When you don't like a part of your canvas, I encourage you to see that as a good thing. Why? Because when you don't like part of it, you have so much more freedom to try something on it.  When there are areas of a canvas I like, I am less likely to take a risk with it.  That can lead to over thinking, which is not a good place for creativity.
Don't like an area, erase it. Wipe the paint off the canvas and add more.  When I did that on the bottom of the Floetrol canvas where I had been overthinking things, it was like a fresh start.
There was a part of the Liquitex canvas that I just didn't like. The bottom left side. I hadn't been overthinking it, I just didn't like it one bit. I had tried several things on that area but still didn't like it so I just wiped that paint completely off and added the solid color in its place.  To get the 2 parts to look like they belonged together, I let gravity pull the white into the teal.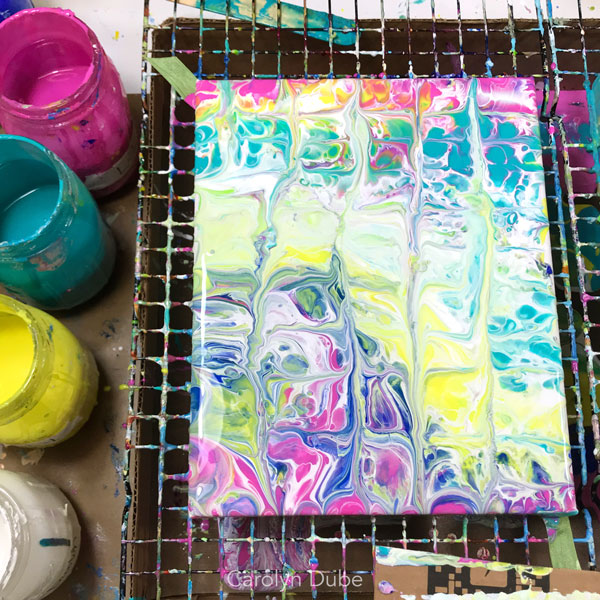 Here the are dry. These both went through a lot of stages to get to the point where I was happy with them.  Some days, the paint instantly gives magic and other days, you just have to keep moving it around until it gets to a happy place.