What can you do with busy stenciling? Add something big and bold to balance out the busy/detailed look. One of my favorite ways to do it with is with letters.
Along the way, you'll see the no measuring way to center a word and why I never think it's a wasted layer when most of it gets covered up.
Video password:rainbow
Download the video here. Need help? Check out this page.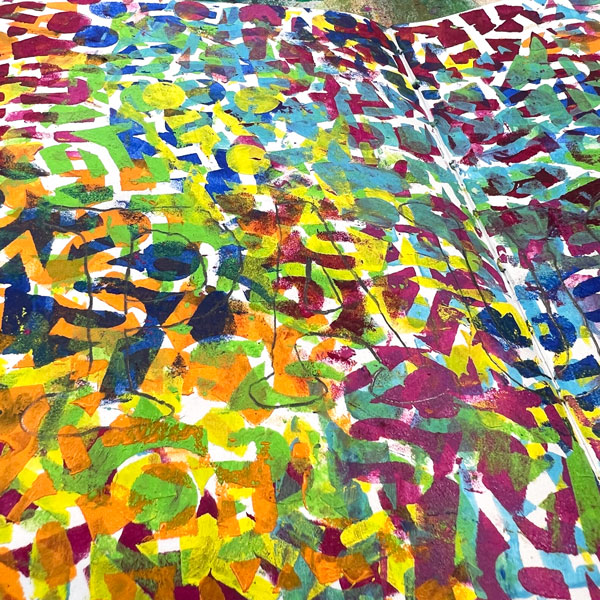 Use some cheat sheet stenciling to position your word.
To center it, find the middle of the word and place that at the center of the page. If you've got an odd number of letters, like I did, the middle letter goes directly in the center. If you've got an even number of letters, place half the letters on one side of the middle line and half on the other side.
Use the cheat sheet to position the stencil on top of a letter and trace with a pencil.
Repeat for all the letters.
Then paint around the letters.
You have the freedom to cover all or part of the background!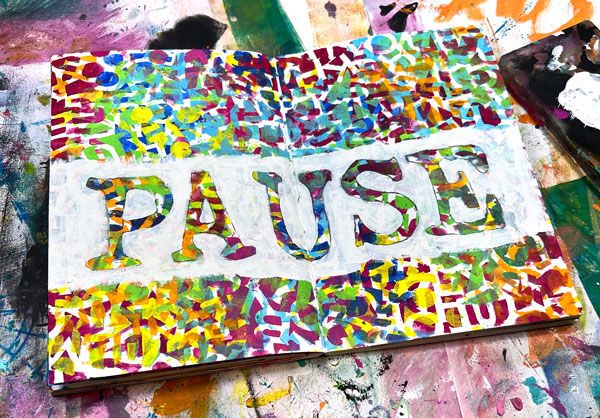 With so much of that colorful background painted over with white, was it wasted? Not at all! That layer is peeking through the entire page. More at the edges and less where it's painted white, but it is still somewhat visible. This gives the page continuity that wouldn't be there if the colorful layer was simply below the word pause only.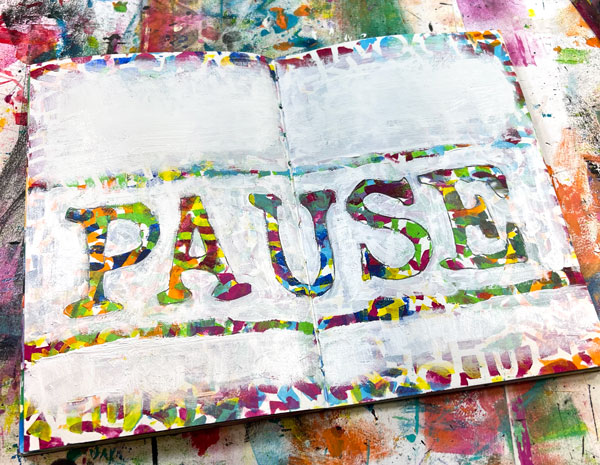 Now it's your turn to play! Grab some busy stenciling and try adding something big and bold to it! I will see you in the next video where we're using masks!
While you're playing, snap a picture and share it with us in the comments because you'll inspire fellow classmates! Yes, you really will!
Supplies used in this lesson: I encourage you to substitute whatever you want whenever you want! A word about pricing- if a supply seems bizarrely expensive, substitute with another supply. I've found prices, especially on Amazon can really fluctuate. You can see the full workshop supply list here.