Video password:rainbow
Download the video here. Need help? Check out this page.
We're living on the edge in this video. Well, actually more like being aware of the edges as we create an organic/random look with a stencil.
Variation 1
Putting paint in varying amounts to the edge of each element in the stencil. In my case here, the circles.
To create a random/organic look:
Vary the amount of pressure/paint you use with the cosmetic sponge.
Use different parts of the sponge (edges, corners, or the whole thing).
Rotate, twist, or turn the sponge as you're doing it.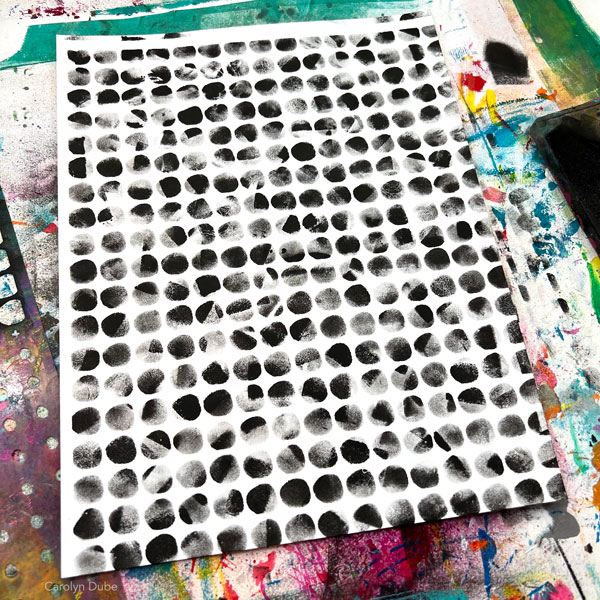 Variation 2
Not going to the edge of the elements on your stencil. You get a different look when you don't go to the edge of each shape. It's hard to see the circles if you don't go to the edge of each one. But see what happens when color is what goes to the edge and not the black paint!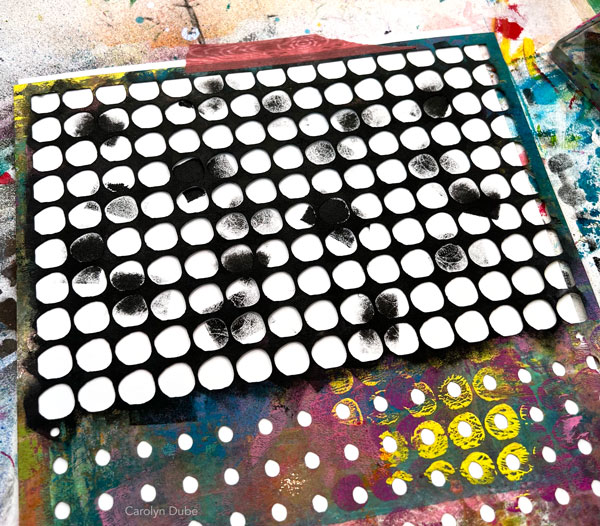 Adding color to both variations
On the larger paper, the color added more interest, but the circles were defined by the black ink.
On the smaller paper, it's the spray ink that went all the way to the edge to define the circles. Without it, it wouldn't have looked much like the stencil.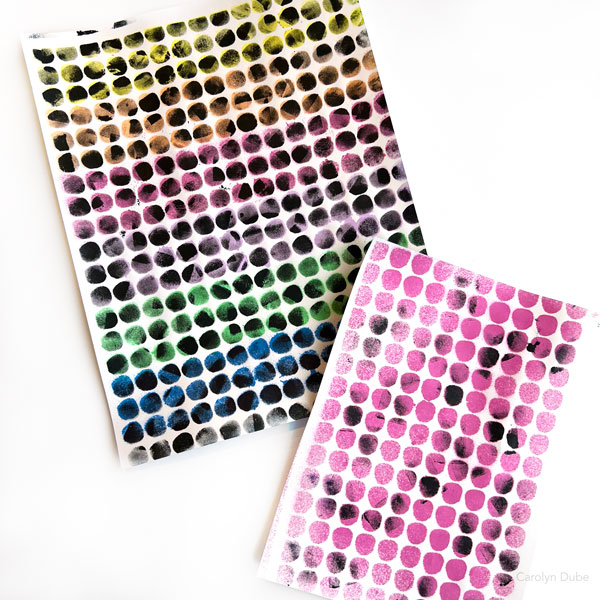 Now it's your turn to play! Grab a stencil and experiment with going to the edge and not going to the edge! I will see you in the next video where we're exploring texture and stencils.
While you're stenciling, grab your camera and take a picture to share with us all here in the comments below!
Supplies used in this lesson: I encourage you to substitute whatever you want whenever you want! A word about pricing- if a supply seems bizarrely expensive, substitute with another supply. I've found prices, especially on Amazon can really fluctuate.
The other colors of Art Spray used are Tangerine, Raspberry, Lavender, and Apple. As I'm writing this, these colors are out of stock so I can't link them for you or they are crazy expensive. Substitute with any sprays you have on hand.
*****Supply Update! Turns out Blick is not currently carrying the Art Spray- not sure if it's a supply chain issue or something else. Here's a link to a search on Amazon for them, but be sure that it's the Art Spray you are clicking on – since they also have Fashion Spray for textiles.*****